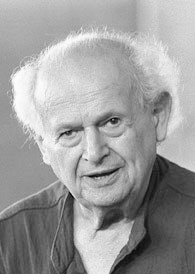 Dr. Moshe Feldenkrais (1904 – 1984) was born in Slavuta (located in present-day Ukraine) and died in Tel Aviv.
He was a scientist, engineer, martial arts teacher and pioneer of somatic learning.
The cause of his decade-long research and the development of the Feldenkrais method was a knee-injury, which he sustained while playing football. Due to this, his interest in neurophysiology was awakened.
Through the careful and conscious movement of his body, he realized that, as his outer and inner attitude changed, his knee improved constantly. Towards the end of the 1960s, he developed his Feldenkrais method and taught it to his first students in Tel Aviv.
You can learn more about his life at https://en.wikipedia.org/wiki/Mosh%C3%A9_Feldenkrais